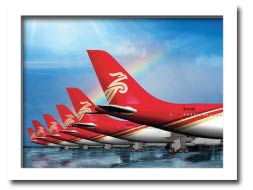 Shenzhen Airlines ("SZA") was established in November 1992 and started operations on September 17, 1993. By 2007, Shenzhen Airlines is one of the most profitable airlines in China, with a record of 14 consecutive years of profit. It has been highly rated by the public for its flight safety, superb services, excellent financial performance and effective management.
Shenzhen Airlines currently operates a fleet of 74 aircrafts consisting of 52 B737 series and 22 A320 series serving more than 200 domestic and international flight routes. In 2004, it established a joint venture company, with German partners Lufthansa Cargo AG and DEG, Jade Cargo International which started flight operations in August 2006 and operates currently a fleet of 6 B747-400ERFs. In 2006, Shenzhen Airlines launched a joint venture regional airline Kunpeng Airlines with US MESA Air Group. Kunpeng started operations in October 2007 with 3 Bombardier CRJ-200 and now it has a fleet of 5 CRJ-200 and 1 EMB-190.
SZA has been actively expanding its business to Southeast Asia, maintaining 47 domestic and overseas sales departments. Operation bases are now widely located in China with 8 Branch Companies. It also has 6 subsidiaries covering Industry Trading, Advertisement, Tourism, Hotel and Flight Training Academy. SZA is holding Changzhou Airport and managing Wuxi Airport of Jiangsu Province in East China.
Shenzhen Airlines has been a pioneer in recruiting foreign pilots since 2003. With more than 70 foreign pilots in service, Shenzhen Airlines is the largest airline in China in recruiting foreign pilots and it needs more pilots to realize its grand 369 Strategic Plan.
By 2009, Shenzhen Airlines will operate a fleet of 88 aircrafts, including 14 to be delivered in 2009.